Upwind is a place where
opportunities

happen.
At Upwind we are a team of engineers, problem solvers, thinkers and doers. 
We value creativity, innovation and continuous learning, which allows our team to stay ahead of the ever-evolving cybersecurity landscape.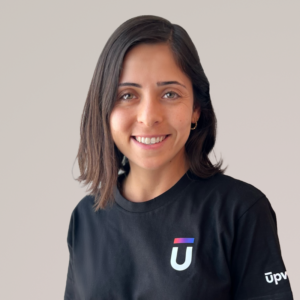 Engineering Manager,
Upwind
"Working at Upwind is an exhilarating journey of innovation and growth. Every day presents new challenges and opportunities that fuel my passion and drive. In this dynamic environment, I've collaborated with talented individuals who value inclusion and embrace different perspectives."
We are obsessed with Customer Satisfaction.
We start with the customer and then Work Backwards.
We Communicate
efficiently.
We are Owners and Professionals.
We are obsessed with Customer Satisfaction.
We genuinely care about our customers. We strive to exceed their expectations.
We can only succeed when they succeed.
Every interaction with us , from how they purchase our products to how they receive technical support and back office help from us, should WOW them and reinforce their decision to partner with us.
We start with the customer 
and then Work Backwards.
We work with our customers to find their biggest problems and work our way backwards to meet their needs.
We strive to translate vague feedback into simple, innovative products & features.
Speed matters in business.
We make decisions with speed, and acknowledge that many decisions are reversible.
We are not too proud or afraid to change direction because failure is an integral part of success.
We have a bias for action and we take risks despite ambiguity.
We strive for
simplicity.
We always find ways to simplify.
We do not overcomplicate tasks.
Customers want simple products, simple experiences, simple mechanisms, and simple processes.
We communicate efficiently.
We believe in constant communication with each other.
We believe that communication should happen regardless of hierarchy.
We strive to proactively provide updates.
We believe in ongoing feedback.
We are owners and professionals.
We stay connected to the details.
We do everything to make things work. No task is beneath us.
We never say "It's not my job."
We don't sacrifice long-term value for short-term results.
We accomplish more with less
We think outside the box.
We insist on high standards but are also pragmatic on how to get there.
We make it work, then we make it better.
"Upwind is a place where diversity of thought is encouraged and accepted. My ideas are valued, my voice is heard, and my potential is realized. We are shaping the future of cloud security."
"As an HR team member, I am proud of the supportive and inclusive workplace we are cultivating. Upwind's commitment to hearing everyone's voice and creating a level playing field within the organization has made my experience fulfilling and rewarding."
"As a UI/UX designer, I enjoy creating user-friendly experiences that deliver innovative technology. It's empowering to be part of a company that values inclusion and embraces unique perspectives in the cybersecurity industry."
We are always on the lookout for talented and passionate people to join our team. If you think your skillset might be a good fit for our mission, please drop us a line.